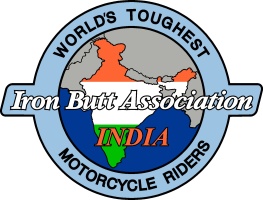 Due to documentation issues in India, each ride is tracked as the ride is in progress. That means you MUST contact IBA India with your ride plans and a "self declaration " letter or email stating that the attempt is solely your wish and neither IBA nor its members in India are responsible (as they are only acting as your ride witness).
Please send your note to: IBAIndia.WITNESS@gmail.com
You must also state the ride you are planing to take and the date and time you are going to start it.
You will receive an email back stating we have your request and are locating a ride witness for you.
---
Iron Butt India is a Trademark - © 2016 Iron Butt Association, Chicago, Illinois USA

Please respect our intellectual property rights. Do not distribute any of these documents, or portions therein, without the written permission of the Iron Butt Association.