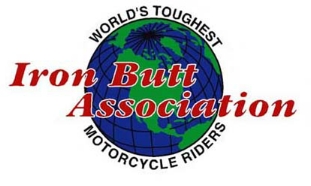 IBA Bike Week 2017 Party

The Iron Butt Association's most beloved event - The Bike Week Dinner - will be held March 16 - 18, 2017 in JACKSONVILLE, Florida, approximately 80 miles north of the Daytona race track.

The dinner will be on Friday, March 17, 2017, Dinner check-in begins at noon in the hotel lobby.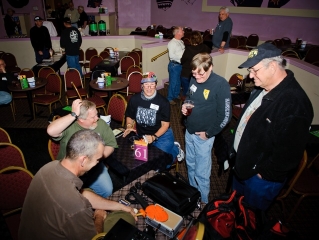 Dinner will be served at 6:00 p.m. We are going to serve a buffet style meal of tossed green salad, Italian pasta salad, Waldorf Salad, Green Beans Almandine, Red Bliss potatoes, steamed mixed vegetables, rice pilaf, sirloin beef tips, roast chicken and assorted desserts. As usual, a cash bar will be available. We will do a short presentation at 8 p.m. which is always fun, however the goal of the two day party is to get a chance to meet fellow long-distance riders, share stories and farkling tips (bring your cameras!), make new friends and get caught up with old ones Ė what more could you ask for?
We have blocked every room in the hotel for those attending the party, at $73 per night including a full cooked breakfast. The hotel does NOT charge for parking or Internet usage. Once your registration is complete, we will forward you the link to obtain the negotiated room rate available only to attendees. You may only make your reservation through the provided link Ė NOT through the corporate number or website Ė so please wait to receive the link if you want to be sure to get a reserved room. The letter with the link and other info is not computer generated so it may take a day or two to receive it. Thanks for your patience.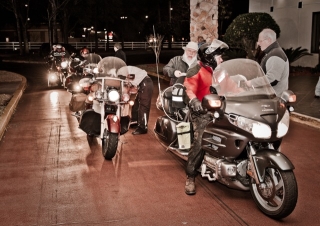 We continue our tradition of creating a unique SaddleSore ride for attendees of the Jacksonville party. For 2017 weíre pleased to announce the JAX 1000. Once again Rallymaster Jim Bryan has put together a fun ride that will take you around Florida.
For those of you who want to see if you can hang with the big dawgs, we will also be hosting a BBG ride on Thursday. This is not for the faint of heart as itís a challenging ride. Donít say we didnít warn you and remember: there is no crying in Long Distance Riding.
Note: Rides are open only to IBA Bike Week Party participants joining us for the festivities at our annual dinner. In addition to being a fun option for current IBA members, it's a great opportunity for potential IBA members to earn their first certificate, personally presented to you by IBA President Michael Kneebone at a special presentation at 5 pm in the Comedy Club off the hotel lobby. Trust me, you do NOT want to miss out!
IBA staff will start arriving at the hotel Wednesday, March 15th because we just can't get enough socializing! We pay for the use of the facilities, so even if you do not want to eat, everyone must pay to enter. In the unlikely event this hasnít already sold out in January, everyone who wishes to attend must register BEFORE February 25, 2017. Remember: Space is limited!! We had an overflow crowd last year; this year we will sell out, so to avoid disappointment we suggest you register as soon as possible. Only Iron Butt Association (IBA) members, their guests or those registering to do a certified ride-in may attend the party. Space is limited and once we are out of room, well, we are out of room....
NO TICKETS AT THE DOOR: Once again we will NOT have tickets available at the door in Jacksonville and someone is always disappointed hoping to jump in last second to a sold out event. Don't travel hundreds or even thousands of miles hoping to snag a last minute seat - they do NOT exist. Please, if you want to attend the party, get a ticket now so youíre not left out because if you just show up in Jacksonville there will NOT be a ticket for you. Word to the wise.
To reserve your entry to the party, register online and pay via PayPal (which will let you pay via Mastercard, Visa, Discover, American Express and of course, Paypal), the cost is $59.17 US per person. Please do NOT send cash or checks to the IBA as your registration will not be able to be confirmed. Please drop Lisa a note if the account name for Paypal is different from the name you use to register.
The registration web page can be found at:
If this is your first visit to ironbuttrecords.com you will need to create a new account (please try the Forgot Password link first). If you are not sure of your IBA number or you are doing your first SaddleSore before the party, enter 999 in that space. If you already have an account but are having trouble finding that information, please send Lisa an email and sheíll sort that out for you. Please do NOT open a second account.
IMPORTANT!
If you have problems or questions when registering please contact Lisa at lisa@ironbutt.com Your confirmation letter, along with exact directions, the hotel room reservation link and contact information, will be emailed to you after you register. As long as you follow the registration link in a reasonable time after you get the letter, there will be a hotel room available for you if you've registered and paid for the event. Once the main hotel sells out, overflow rooms will be available across the street at the same rate and including breakfast in the host hotel. No problem, no big deal Ė itís just across the street and itís a very nice hotel. Your dinner ticket(s) will be available for pick up at the door - nothing will be snail mailed to you.
****Note: the host hotel will sell out quickly (with in hours of registration opening) out but not to worry the hotel across the street (less then 100 feet away) has a block of rooms for the same price AND including breakfast at the host hotel so we can all be together. After you register for the party, you will receive another letter with hotel instructions. The alternate hotel is quite nice and just a few steps from the party so don't let that dissuade you from having a great few days with friends!!!***
DAYTONA PARTY REFUND DEADLINE
The refund deadline is February 6, 2017 - our deadline to turn in space and meal commitments to the hotel. After that there will not be any refunds. Please understand that your funds will go to support the party for those riders able to attend. You may transfer your ticket to another rider until February 20, 2017, but ONLY if the original ticket owner sends Lisa an email that also copies the buyer. You work out the finances between the two of you but Lisa must get that email no later than February 20.
Friday night Party AND JAX ride space is limited! In order for us to accommodate as many people as possible there will be no last minute admission at the door. We pay for the use of the facilities, so even if you do not want to eat, everyone must pay to enter. Everyone who wishes to attend must register BEFORE February 26, 2017, and since we expect the party to fill within just a couple of weeks, we suggest you register as soon as possible. Only Iron Butt Association (IBA) members, their guests or those registering to do a certified ride-in may attend the party. Space is limited and once we are out of room, well, we are out of room....
PRELIMINARY JAX 1000 Route - 1,031 miles - detailed 2017 route will be unveiled mid-February
The JAX 1000 AND BBG version will be held on Thursday, March 16, 2017. Starting from IBA Headquarters in Jacksonville at 6:45 am (about 1 hour before sunrise). The JAX 1000 will be a challenging ride through Florida and looks to be a great way to see some beautiful country.
Successful finishers will receive their certificate Friday afternoon. JAX ride registration is $60.17 and is completed separately at www.ironbuttrecords.com using the JAX 1000 link.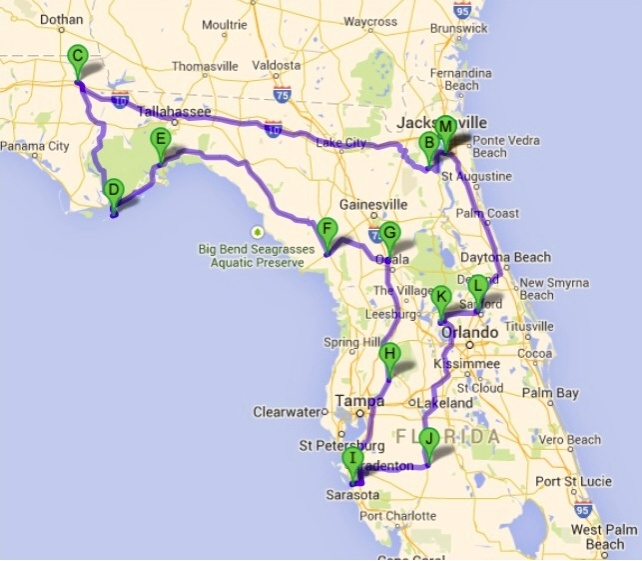 PRELIMINARY JAX BBG route - 1,512 miles - detailed 2017 route will be unveiled mid-February
The JAX Bun Burner GOLD - 1,512 miles in 24 hours - is an extreme ride. To participate in the BBG version, you MUST have completed at least a SaddleSore 1000 prior to the start of the JAX BBG.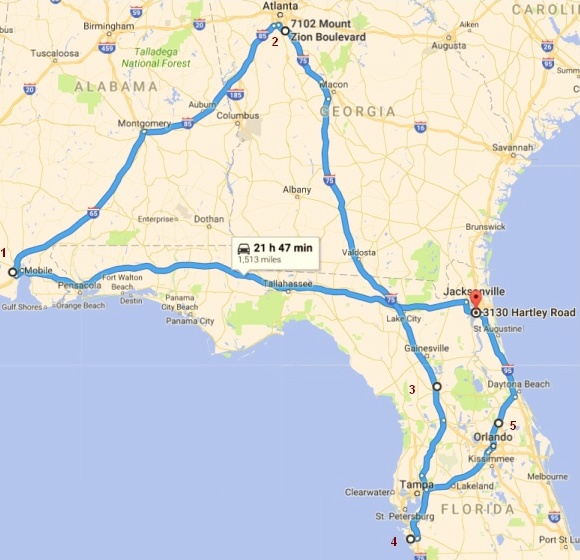 TECHNICAL RIDE DOCUMENTATION INFORMATION
The JAX 1000 and BBG versions will be documented by photos of key landmarks (camera or smart phone with camera required). At the start on Thursday morning, riders will receive a unique JAX rally flag. If you are new to documenting rides via flags, please visit:
How to set up your rally flag in Rally Flag 101
ROUTE
The route will be provided in various formats, as well as GPS co-ordinates on February 20th so you will have time to set-up your GPS. While the route is fairly simple, using a GPS will simplify following the route and finding the required check in locations.
Everything needed for the ride will be provided by February 20, 2017. The 6:30 am riders meeting on the morning of the ride should be brief.
JAX 1000 and BBG REFUND DEADLINE
Because this ride requires a certain level of administrative and product support, the refund deadline is February 6, 2017. After that, there cannot be refunds. However, if weather is not cooperative on the day of the ride, or you can not otherwise make the start line, you may complete this ride up to two years later (including later Bike Week events) and apply via snail mail; your JAX 1000 or 1500 fee will cover the cost of the certification and other ride items.
Riders who start but are unable to finish on the 16th or 17th, may also complete the ride at a later date and snail mail their documentation in for certification.
Please understand that if you cannot make the start line, your funds will go to support the ride for those riders able to attend.
I look forward to seeing each of you again at the party in Jacksonville!
Michael Kneebone
President, Iron Butt Association
IBA Party rides always feature a specialty certification
something totally unique for just this ride!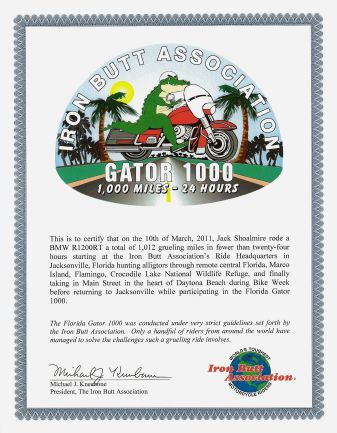 2010 IBA Legends finishers (Steve Hobart photo)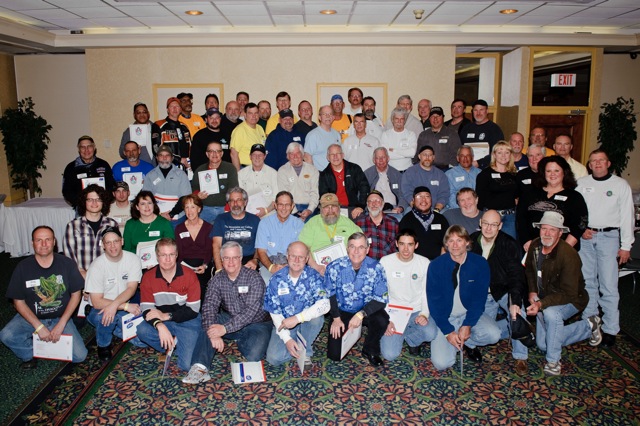 ---
© 2017, Iron Butt Association, Chicago, Illinois

Please respect our intellectual property rights. Do not distribute this document, or portions therein, without the written permission of the Iron Butt Association.