GATOR 1000 at 2011 IBA Annual IBA Party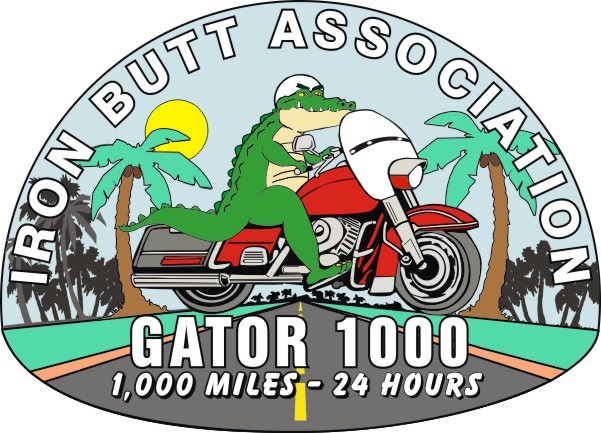 FLORIDA GATOR 1000
The Florida Gator 1000 will be held on Thursday, March 10, 2011. Starting from IBA Headquarters in Jacksonville at 5:45 am (45 minutes before sunrise) the Gator 1000 will be a challenging ride through small Florida back roads across central Florida leading to Everglades City, Flamingo, the Crocodile Lake National Wildlife Refuge, and Main Street in the heart of Daytona Beach during Bike Week!
The Gator 1000 will give you a taste of what bonus hunting is about without all the technical concerns of rallying. The route will be MUCH easier using a GPS. However, with 9 required items, following the route via maps is fairly easy too. You will be spending most of your time riding, not finding things.
NOTE: For the purpose of this ride, a crocodile and an alligator are one and the same. You are going to pass countless croc and gator items on this route, I took pictures of over 40 different gator related items, but choose a few key ones to prove you did this gator hunting route to keep this as simple as possible.
The Gator 1000 route - not for the faint of heart!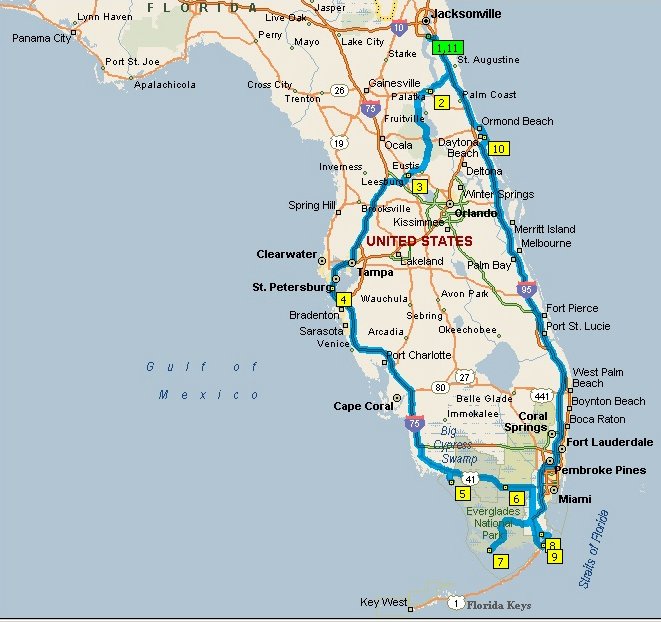 #1 - 5:15 A.M. - Bring your odometer reading, your RELEASE, collect your Gator 1000 ride flag and sign out to the lobby of the JAX hotel, a light breakfast will be waiting for you!

Riders meeting 5:40 am (mostly stay safe!) you are off at 5:45 am

NO log is required for this ride. Stop numbers correspond to Streets and Trip map

Your Gator 1000 flag should be in all photos except stop #10.

The route must be ridden in a counter-clockwise direction and in order but you may choose any route you want and will be credited with 1,033 miles total.

IMPORTANT NOTE: On February 15, 2011, Florida converted many toll roads to no cash tolling (as they were calling it when I was there). Where you see the sign NO CASH TOLLING (or similar) there is nothing to do, they will take a picture of your plate and send you a bill (no doubt an expensive one)... this may (but should NOT) impact one or more required stops, if it does, document the stop the best you can.

Complete the following:
---
#2 - Gator Landing, 181 South US-17, East Palatka N29 38.755 W081 36.222

Take a picture of the Alligator Mailbox at Corky Bell's Seafood and Steak (across the road from the Burger King)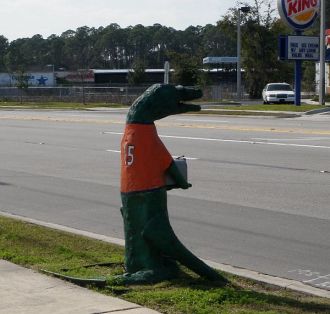 ---
#3 - Leesburg, 1745 East US-441 N28 49.042 W081 50.723

Take a picture of Gator Harley-Davidson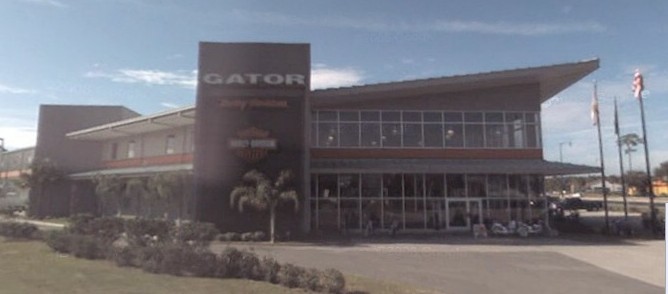 ---
#4 - Sunshine Skyway Bridge, on I-275 south of St Petersburg N27 40.873 W082 40.707

Collect a toll receipt from the north side of the Sunshine Skyway Bridge heading south OR a picture showing you were on the north side of the bridge - do NOT stop on the bridge span there are many cameras and you will be ticketed (and don't ask how I know)!
---
#5 - Smallwood Store and Museum, 360 Mamie Street, Chokoloskee N25 48.599 W081 21.738

Take a picture of the SMALLWOOD'S STORE plaque to the left of the entrance of the store.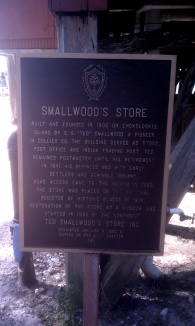 NOTE: There are NO facilities here! The store does have small (and expensive) bottles of Coke and Diet Coke, that is about it. Museum is $3, lots of old stuff if you are interested in a quick walk through about swamp life and Gator heads to be found here.
---
#6 - Miccosukee Indian Village South Side US-41 near MM 70 N25 45.679 W080 46.511

Take a photo of Miccosukee Indian taming the Alligator (in parking lot - not required to go in to the village)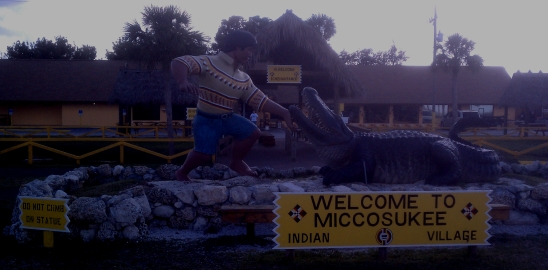 ---
READY FOR A COLD FRUIT SHAKE? Visit Robert is Here Fruit Stand (NOT ON S&T map!) 19200 SW 344th St, Homestead N25 26.837 W080 30.105

Robert's is very busy but also very fast. Unfortunately, there are no real bathrooms here... Other than that, it is worth a very short side trip - only blocks off the main route - stop for either fresh fruit or to try their famous shakes.
---
#7 - Flamingo, Everglades National Park Visitors Center N25 08.475 W080 55.450

Take a picture of the Guy M. Bradley plaque that is just past the stairs up to the Visitors Center OR if you really can't find it, the large FLAMINGO VISITOR CENTER sign at the handicap ramp.

Guy Bradley was one of the very first game wardens and gave his life protecting Great Egrets from being poached when he was shot by hunters...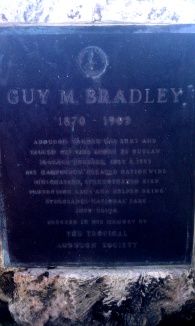 ---
These next two locations have you riding a loop around Crocodile Lake.
The difference between a crocodile and an alligator is that they are from different families. Crocodiles are from the crocodylidae family, while alligators and caiman are from the alligatoridae family - no surprise there, eh?!
The easiest way to tell the difference between the two is that a crocodile has a very long, narrow, V-shaped snout, while the alligator's snout is wider and U-shaped. Because of the wide snout of the alligator it packs more crushing power to eat prey like turtles that constitute part of its diet. The narrow crocodile snout, although still very powerful, is not really suited for prey like turtles but is very versatile for fish and mammals.
---
#8 - Card Sound Bridge toll booth, Old Dixie Hwy southeast of Homestead N25 17.467 W080 22.671

Take a photo of the yellow CROCODILE CROSSING sign near the southbound entrance of the toll booth at Card Sound Bridge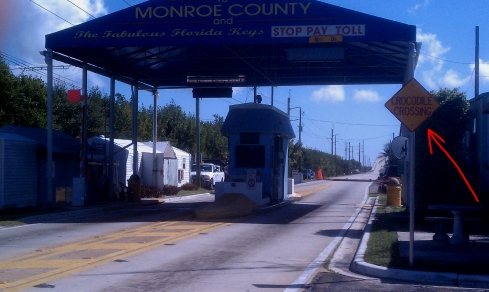 ---
#9 - Crocodile Lake National Wildlife Refuge N25 11.495 W080 21.374

Take a picture of the Crocodile National Wildlife Refuge sign at Ocean Drive and CR-905 approximately 1.8 miles northeast of US-1.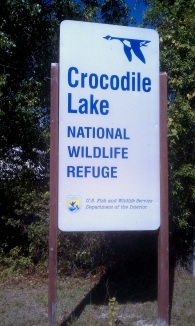 ---
#10 - Daytona Beach, Congo River Golf & Exploration, 2100 S Atlantic Ave N29 11.914 W080 59.657

Take a picture of the Alligators in the Alligator pit to the left of the walkway approaching the cashier's booth - NO FLAG NEEDED IN THIS PHOTO!

NOTE: They are open until 11 P.M., but entry is NOT required to take this photo. We understand it will be difficult at night and will accept a photo of the entrance sign as long as you have gone over and checked out the gators.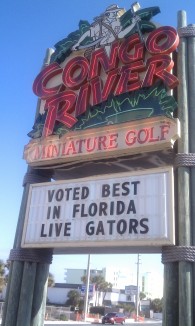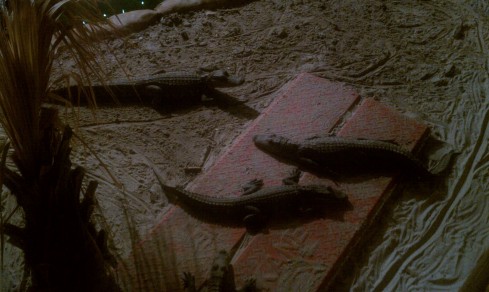 GATORS LATE NIGHT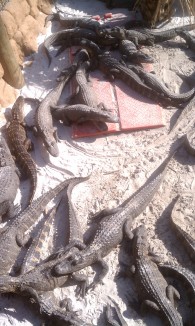 ---
#11 - Return to home base! End your ride with a gas receipt from any station near the hotel.

Bring your END odometer reading, photos (you do not have to print them, we can look at them on your camera or phone display), Sunshine Skyway and end gas receipt to check in between 10 am and 2 pm on Friday, March 11, 2011 at the check in room will be held just to the right of the front desk, through the double doors, near the banquet room

Good luck!

Mike
---
SMART PHONE USERS WILLING TO PARTICIPATE IN A TEST!

Smart Phone (equipped with reasonable Camera) owners who are willing to participate in a new way of documenting rides are encouraged to use their phones to take the photos and email them on site to a dedicated email account: flgator1000@gmail.com

Feel free to test this email address before you arrive from your smart phone - send us funny photos!

The email address will instantly confirm that your mail was received while keeping the photos on your phone will act as back-up.

NOTE: This will NOT work in Flamingo, for those giving this a try, can you please see if your phone will automatically email the photo when you get back to cell service.
---
© 2011, Iron Butt Association, Chicago, Illinois

Please respect our intellectual property rights. Do not distribute this document, or portions therein, without the written permission of the Iron Butt Association.