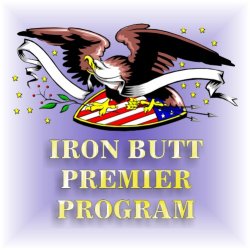 While everyone who completes an Iron Butt Association (IBA) certified ride is a member for life, there are other costs to running the IBA that the Premier Program funds. The Premier Program has helped finance the legal defense fund (for the protection of our name) and the Iron Butt Magazine!

In return, we want to offer our core members, those who are involved in keeping the IBA running long after their certified ride is complete, some very exclusive benefits.

Please note: you must be an IBA member in order to participate in the Premier Program.

Premier Program benefits include:

- A subscription to the Iron Butt Magazine created by IBA Premier supporters! Note: $20 of your Premier funds are allocated to a 1 year subscription to the Iron Butt Magazine.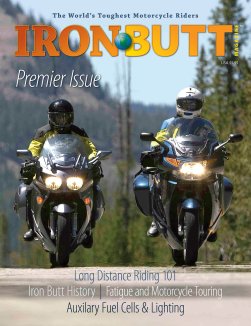 - Subscription to Premier private e-mail news list with frequent informal news so you are on the inside of track of what is happening inside the IBA.
- Private areas in the IBA forum (www.ironbutt.org) in which only Premier Program can participate.
- Premier's receive advance notice and early registration for IBA events.
- Extreme rides specially tailored for Premier riders.
- A special drawing in the Iron Butt Rally similar to the benefits rally veterans receive along with a second chance in the main drawing, tripling your odds of getting a coveted spot in the IBR.
The yearly donation (please note, this is really basically a donation to support the club!) for the Iron Butt Association Premier Program is $40 ($20 goes direct for a 1 year subscription to the magazine).
To sign up on-line, visit www.ironbuttrecords.com (Accepts Paypal, Visa, Mastercard, American Express and Discover - you will need to create an account on this web site)
OR to sign up via Paypal, send the $40 payment to premier@ironbutt.com Please put your IBA number in the Note column.
or via mail:
Iron Butt Association
PO Box 4223
Lisle, IL 60532 USA

© 2011 Iron Butt Association, Lisle, Illinois
Please respect our intellectual property rights. Do not distribute any of these documents, or portions therein, without the written permission of the Iron Butt Association.