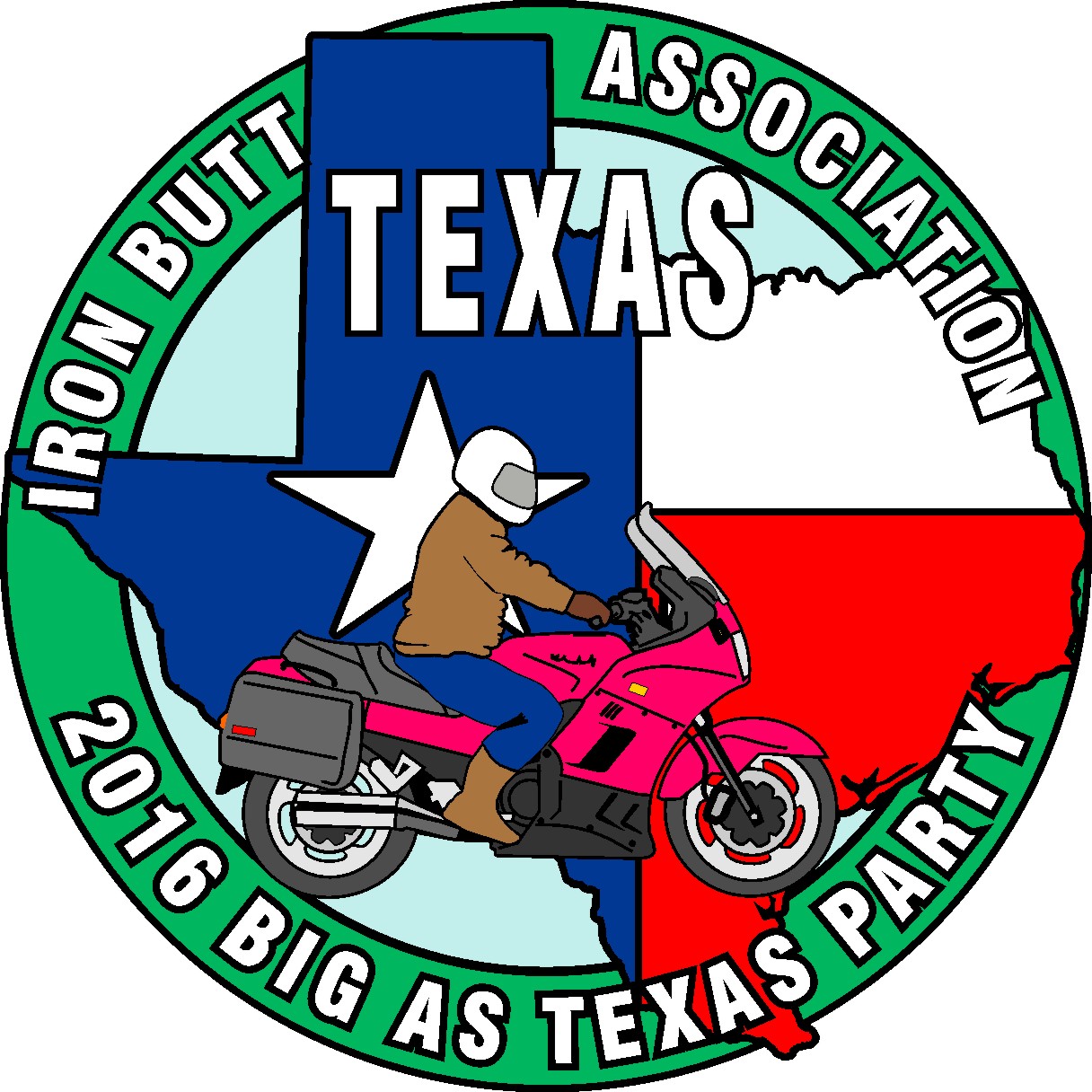 Dallas, Texas 2016—Event and Ride!

The Big-As-Texas Party and Memorial Ride Season finale is back again for 2016 !!! The event and special ride will be held on September 30 and October 1, which is the final weekend available for completing a Memorial Ride in 2016.

Festivities will include a good old fashioned BIG-AS-TEXAS Style Dinner which will be served Saturday evening at 6:00 p.m. and will include some of Texas' finest food, including dessert. A cash bar will also be available for those who enjoy an ice cold beverage with your meal. We will have a short presentation after dinner, however the goal of the two day party is to get a chance to meet fellow long-distance riders, share stories of your Memorial Rides, and do some tire kicking as well!
********READ THIS************
In the past, we have held our Dallas Parties in very large Marriott business hotels. Many riders commented that these large venues didn't give them the opportunity to get together with other riders—that we got lost in the vastness of these buildings. So this year we are moving to a smaller hotel, a good-sized Hilton Garden Inn, where we will be able share our 'war stories' and cold brews easier. But this means that the number of rooms at the hotel will be limited, so you are strongly encouraged to sign up for this event now.
*******************************
Seriously, space will be limited. Don't be disappointed. Sign up now!!! We have a limited number of rooms blocked at the hotel for those attending the party, at $89 per night single/$99 per night double including breakfast. The hotel does NOT charge for parking or Internet usage. Once your registration is complete, we will forward you the link to obtain the negotiated room rate available only to attendees. You may only make your reservation through the provided link – NOT through the corporate number or website – so please wait to receive the link if you want to be sure to get a reserved room.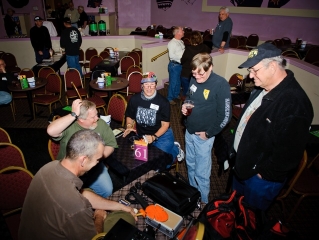 The BIG-AS-TEXAS PARTY will continue a tradition of hosting a unique SaddleSore ride for attendees wishing to complete a Memorial 1000 and like last year, a challenging BBG for those who are really venturesome. Several IBR veterans have designed these rides (details to be published later), and we know you're going to enjoy them.
Note: These rides are open to IBA BIG-AS-TEXAS PARTY participants only. In addition to being a fun option for current IBA members, it's a great opportunity for potential IBA members to earn their first certificate, personally presented to you by IBA President Michael Kneebone at a special presentation at 5:00 pm Saturday. Then please join us for the festivities at our annual dinner at which there will be awards presented for Memorial Ride participants who have reached the 5,000 and 10,000 mile participation levels, as well as recognition of the rider currently holding the most Memorial Ride miles. Trust me, you do NOT want to miss out!
IBA staff will start arriving at the hotel Thursday, September 29. The Saturday night BIG-AS-TEXAS PARTY and Texas World Capitals SS1000 and Texas World Capitals BBG 1500 ride space is limited and will likely sell out. We pay for the use of the facilities, so even if you do not want to eat, everyone must pay to enter. Everyone who wishes to attend must register BEFORE September 1, 2016. We expect a large turnout, so to avoid disappointment, we suggest you register as soon as possible. Only Iron Butt Association (IBA) members, their guests or those registering to do a certified ride-in may attend the party. Space is limited and once we are out of room, well, we are out of room....
To reserve your entry to the party you will have to register on-line and pay via PayPal, $59.16 US per person. Please do NOT send cash or checks to the IBA as your registration will not be able to be confirmed. Please drop us a note if the account name for PayPal is different from the name you use to register.
The registration web page can be found at:
IMPORTANT!
If you have problems or questions when registering please contact HEntmanmd@gmail.com. Your confirmation letter, along with exact directions, the hotel room reservation link and contact information, will be emailed to you after you register. These are not computer generated and it may take a few days to receive this email; we appreciate your patience. No worries though - as long as you follow the registration link in a reasonable time after you get the letter, there will be a hotel room available for you if you've registered and paid for the event. Your dinner ticket(s) will be available for pick up at the door - nothing will be snail mailed to you.
A personal word from the President himself:
"I look forward to seeing each of you at the BIG-AS-TEXAS PARTY in Dallas! It will be an honor to recognize the 2016 Memorial Riders!"
Michael Kneebone
President, Iron Butt Association
BIG-AS-TEXAS PARTY REFUND DEADLINE:
Because the IBA party requires a certain level of administrative and hotel support, the refund deadline is September 1, 2016 - our deadline for turning in space and meal commitments to the hotel as well as ordering ride supplies. After that there will not be any refunds. Please understand that your funds will go to support the party for those riders able to attend.
TEXAS WORLD CAPITALS SADDLESORE 1000 & BUNBURNER GOLD1500
The Great State of Texas is home to many communities with the names of world capitals. Paris, London, Moscow, Athens, and Dublin just to name a few. This year's signature theme ride for the Big-As-Texas Party takes you to some of these and many other famous places from around the world. Whether it's Wellington near the top in the Panhandle or Stockholm at the bottom tip of Texas, we're sure you will have fun touring the world on your motorcycle. No passport necessary! The Big-As-Texas travel team is still working on the itinerary and routes. So, be sure to book the "Texas World Capitals" tour of your choice early by signing up early. All tours start and finish at the Big-As-Texas host hotel in Allen beginning at 6:00 am on Friday September 30, 2016. TECHNICAL RIDE DOCUMENTATION INFORMATION:
The SS1000 and BBG1500 rides will be documented by photos of key landmarks (camera or smart phone with camera required).
If you have never used a Rally flag, please visit: Rally Flag Instructions
ROUTE:
The route will be provided in Streets and Trips format, Mapsource/Basecamp as well as written GPS co-ordinates and street addresses (where available) on September 15th so you will have time to set-up your GPS. While the route is fairly simple, using a GPS will simplify following the route and finding the required check in locations.
Everything needed for the ride will be provided by September 15, 2016. The riders meeting on the morning of the ride will be brief.
SS1000 and BBG1500 - REFUND DEADLINE:
Because this ride requires a certain level of administrative and product support, the refund deadline will be September 15, 2016. After that, there cannot be refunds. However, if weather is not cooperative on the day of the ride, or you can not otherwise make the start line, you may complete this ride up to two years later (including later BIG-AS-TEXAS PARTY events) and apply via snail mail; your SS1000 or BBG1500 fee will cover the cost of the certification and other ride items.
Riders who start but unable to finish on September 30 or October 1, may also complete the ride at a later date and snail mail their documentation in for certification.
2016Texas World Capitals Tour Routes (subject to change):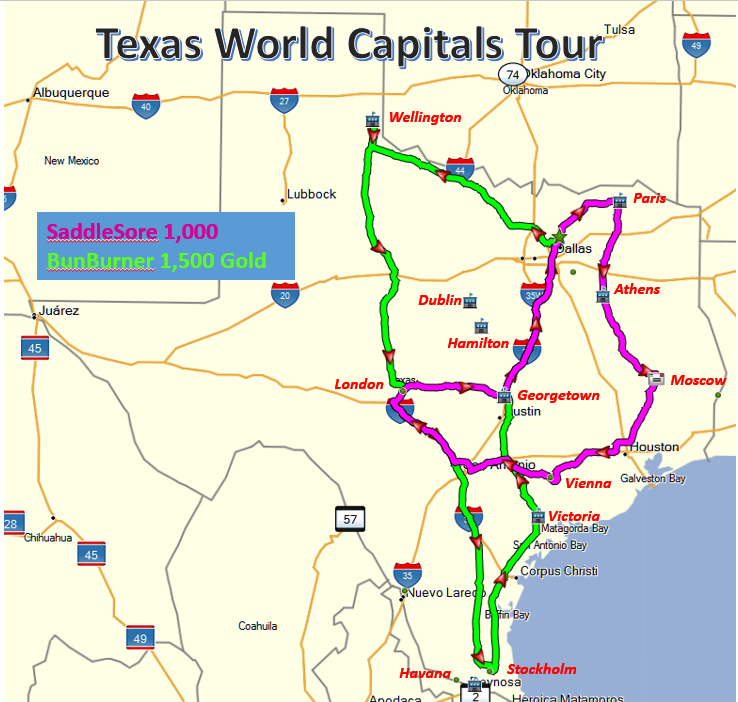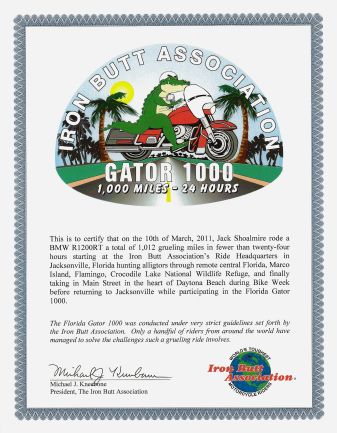 These rides are not for the faint of heart!
FOR THOSE INTERESTED IN HOW THE 2011 GATOR 1000 TURNED OUT, here are the actual rally instructions Gator 1000 instructions
FOR THOSE INTERESTED IN HOW THE 2012 FLORIDA MOUNTAIN 1000 TURNED OUT, here are the actual rally instructions Florida Mountain 1000 instructions
http://ironbutt.com/texas2014/rallyflag101.html How to set up your rally flag in Rally Flag 101
2012 IBA Florida Mountain 1000 finishers (Steve Hobart photo)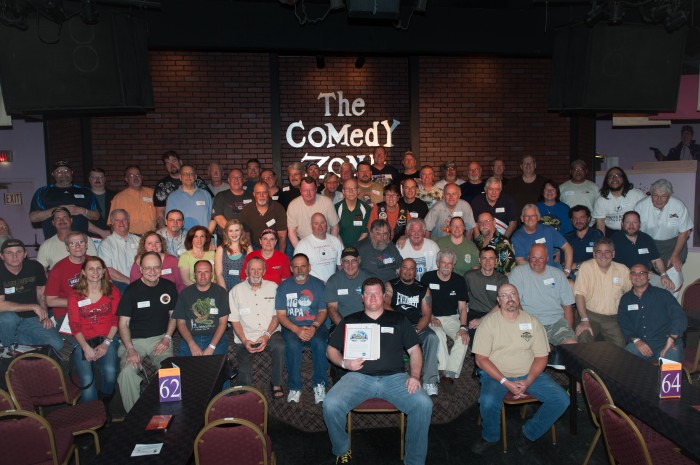 2010 IBA Legends finishers (Steve Hobart photo)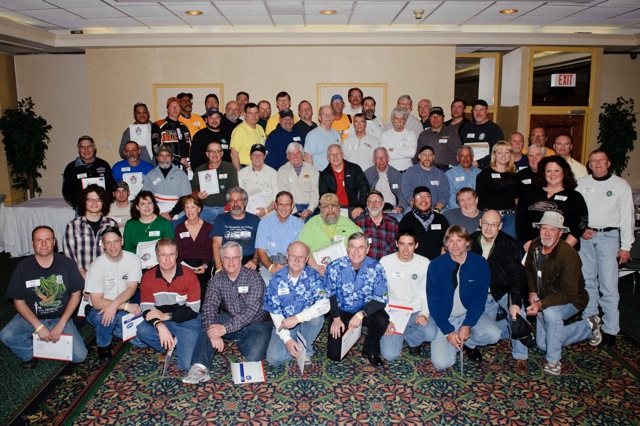 ---
© 2016, Iron Butt Association, Chicago, Illinois

Please respect our intellectual property rights. Do not distribute this document, or portions therein, without the written permission of the Iron Butt Association.