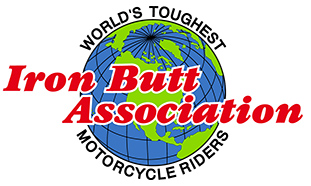 Coast to Coast Series


Version No. 2.1
Date last revised: January 7, 2017

©2017, Iron Butt Association, Chicago, Illinois
Please respect our intellectual property rights. Do not distribute this document or portions therein, without the written permission of the Iron Butt Association.


Background:



The Coast to Coast Series are back-to-back motorcycle rides from the Atlantic Ocean to the Pacific Ocean (or reverse) and return. The rules for the one way rides,

50cc Quest

and

50cc Gold

are here.


Read the rules for the iconic SaddleSore 1000 on the Ironbutt Association site. The rules for this ride are similar and you will get valuable background information.



Documentation:

See here.

Definitions



DBR - Dated Business Receipt



A DBR is a machine generated receipt with the date, time and LOCATION on it. Check it - do not assume it is correct. A receipt with an incorrect time/date/location is worthless. Check and re-check.


Ride



T

ime Limit




Requirement




Fee



100ccc

less than 100 hours

Back-to-back 50cc Quests (Round trip)***

$80**

150cccc

less than 150 hours

Back-to-back-back 50cc Quests
(three one way trips)***

$100

200ccccc

less than 200 hours

Back-to-back-to-back-to-back 50cc Quests
(four one way trips)***

$100

250cccccc

less than 250 hours

Back-to-back-to-back-to-back-to-back 50cc Quests
(five one way trips)***

$100


**includes 100cccplate back and 100cc pin
***Special rules apply to back-to-back rides.



Rules





--Back-to-Back rules



Some rides required back-to-back challenges. Here is how the rules are applied:

1. Each leg of a back-to-back series must be completed start to finish in the time allowed for a single leg, AND all legs of a back-to-back series must be completed start to finish in less than the total time calculated by adding the time allowed for each independent leg in the series. The term "leg" refers to the individual rides of a back-to-back series.

For example, to claim a 200ccccc, each leg of this ride must be completed independently in less than 50 hours, AND all four legs in under 200 hours overall. To claim a triple-leg 150cccc, each leg must be completed independently in less than 50 hours, AND all three legs in under 150 hours overall. To claim a 100ccc, each leg must be completed independently in less than 50 hours, AND both legs in under 100 hours overall.

On each leg, you must obtain a starting receipt AND an ending receipt.

2. Time left over from a previous leg in a back-to-back series may not be used to lengthen the time allowed for successive legs in the series. The clock for consecutive legs in a back-to-back series must be started exactly on or before the maximum time has expired for the previous leg in the back-to-back series.

Under rule 2 there are two options for handling the midpoint between consecutive legs. In one case a rider may use the ending time of the first leg as the starting time of the second leg. A rider who chooses this option will be sacrificing any remaining time of the first leg. This valuable time could have been used for much needed rest.

The suggested method of handling the midpoint between consecutive legs is to use any remaining time on the first leg for rest. A rider may even rest beyond the maximum time allowed for the first leg. Remember, the TOTAL ride must be completed in no more than the total time calculated by adding the time allowed for each independent leg in the series.



--Additional rules



You must obtain DBR every 350 miles or less.

You may take any route you like.

Your official time is determined by the starting and ending receipts. PLEASE check these documents and make sure the clock and date are correct!

Spotwalla.com is strongly recommended but not required.

Remember it is YOUR responsibility to prove you did the ride. Spotwalla goes a long way towards this proof.



Merchandise:

Available through the ibaestore.



Pins:

(Not true to size--pins are 1.75 inches tall.)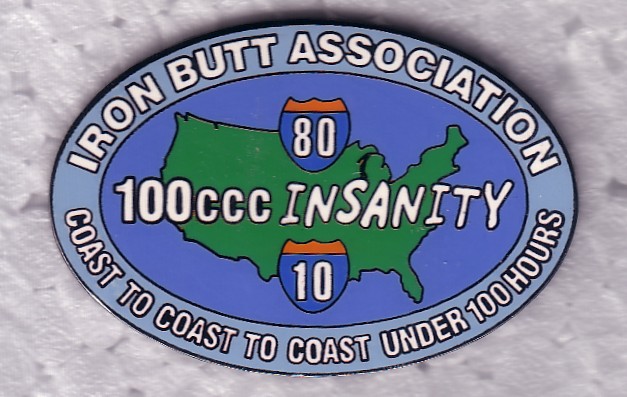 Patches:

(Not true to size--patches are3.75 inches tall.)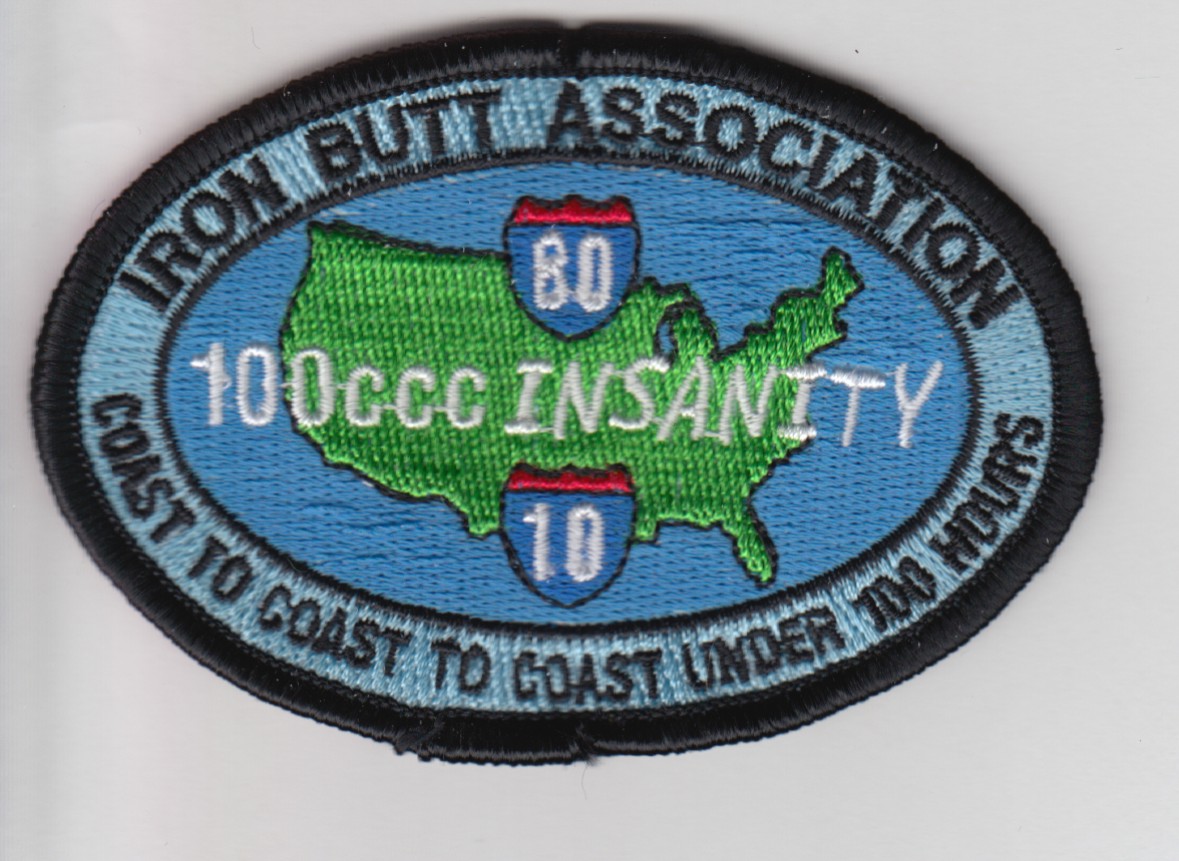 Backer Plate: