Trans Australia Rides
Version No. 1.0
Date last revised: January 1, 2016

TRANS AUSTRALIA QUEST

(Byron Bay, NSW > Denham, WA Australia):Easternmost point of Australia to Westernmost point in 3 days

TRANS AUSTRALIA INSANITY

(Byron Bay, NSW > Denham, WA > Byron Bay Australia): Easternmost point of Australia to Westernmost point back to Easternmost in 6 days!




© 2015, Iron Butt Association, Chicago, Illinois
Please respect our intellectual property rights. Do not distribute this document or portions therein, without the written permission of the Iron Butt Association.


Background:



Original ride completed by David "Davo" Jones – Aug 2007 and certified as a SS10000K. Sadly, Davo passed away on Friday, September 4, 2009, as a result of hitting a deer on US-95 shortly after crossing into the U.S. from Canada during the 2009 Iron Butt Rally.
In 2011, President of the Iron Butt Association, Mike Kneebone, in recognition of Davo's tireless efforts for the long distance riding community in Australia and in the encouragement, support and promotion of the IBA there, renamed the ride as a series -Trans Australia Quest and Trans Australia Insanity.
Here is the start of the story…….
World First Transcontinental 1400GTR Ride ... or Davo takes Roku for a very long ride.

This ride had two targets,

1: Be the first rider in the world to do as advertised and ride a 1400GTR transcontinental
2: Complete the difficult Iron Butt Association SS5000 which is 5,000 miles under 5 days. In this case 6,000 miles + under 6 days.

Mike Kneebone president of the IBA emailed support saying "We can make it an SS6000, but isn't Australia metric? How about a 10K?! Have a great ride Davo!"

Davo said:


The first Transcontinental ride of 10,376klms (6447mi) in 5 days 21 hrs 17 mins from Byron Bay > Denham > Byron Bay.

Now the story of how this came to be.

"This is my story of how I rode a new Kawasaki 1400GTR in stock standard trim from the most easterly point of Australia to the most westerly point and back in 6 days. I hope you enjoy the trip, I sure did. I left the coastal town of Byron Bay NSW at 1am on the 24th August 2007 and at 10:17pm on the evening of the 29th of August 2007 I arrived back at Byron Bay on a Kawasaki Australia supplied 1400GTR where I had left less than 6 days before. I had completed both missions."

Here is a quote from Peter "the bear" Thoeming, editor of Australian Road Rider magazine one of the most popular bike magazines in Australia.

"The world's first true endurance ride on the new Kawasaki 1400GTR!
I think Davo is too modest to blow his own trumpet about this, so I'll have to do it. When Kawasaki came out with the 'transcontinental sports tourer', the 1400GTR, I thought Australian Road Rider had better test its qualities properly. So I asked Davo to ride it from Byron Bay to Denham in WA and back for us - right across the continent twice. I asked him how long he thought he'd want to take, doing it safely, and he said 6 days. That's exactly how long it took, too, in fact he did it with two and three quarter hours to spare. Great ride, mate, and pretty conclusive proof that Kawasaki have got it right with the new GTR.

- Peter "the bear" Thoeming"

Davo Jones full ride story can be found here: http://www.ironbutt.com/rides/trans australiadavo.htm.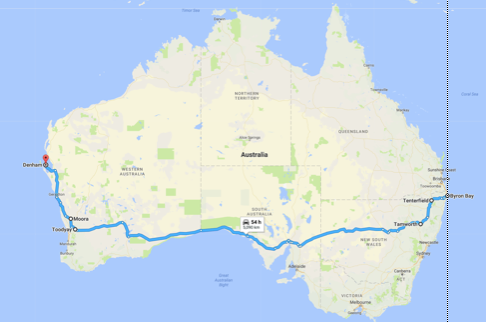 The Ride – Rules

The guidelines contained in the SaddleSore series of rides are to form the basis of rules for this ride.
1. The ride may be started from either Byron Bay, New South Wales or Denham, Western Australia.
2. It is expected that inkeeping with the spirit of this ride, riders are to use the original route by Davo (see ride story link above). The following start/finish and corner points will need to be documented:
• Byron Bay NSW
• Tenterfield NSW
• Tamworth NSW
• Toodyay WA
• Moora WA
• Denham WA

3. To complete the Trans Australia Quest, the single crossing needs to be completed in less than three days. The Trans Australia Insanity includes the return ride and needs to be completed in less than six days.
4. A witness is required at the start and finish in line with requirements of the SaddleSore series of rides (unless members are Premier Members).
5. Electronic printed receipts, along with the Ride Log and any other supplemental documentation, i.e., satellite marking/tracking, GPS tracks generated during the ride and in some cases photographs of the rider and motorcycle, may be used to assist the verification team with your application.
6. Application for verification, http://ironbutt.com/rideapp/rideappoz.htm
.




All that is required now is for you to go and have some fun and enjoy the ride.