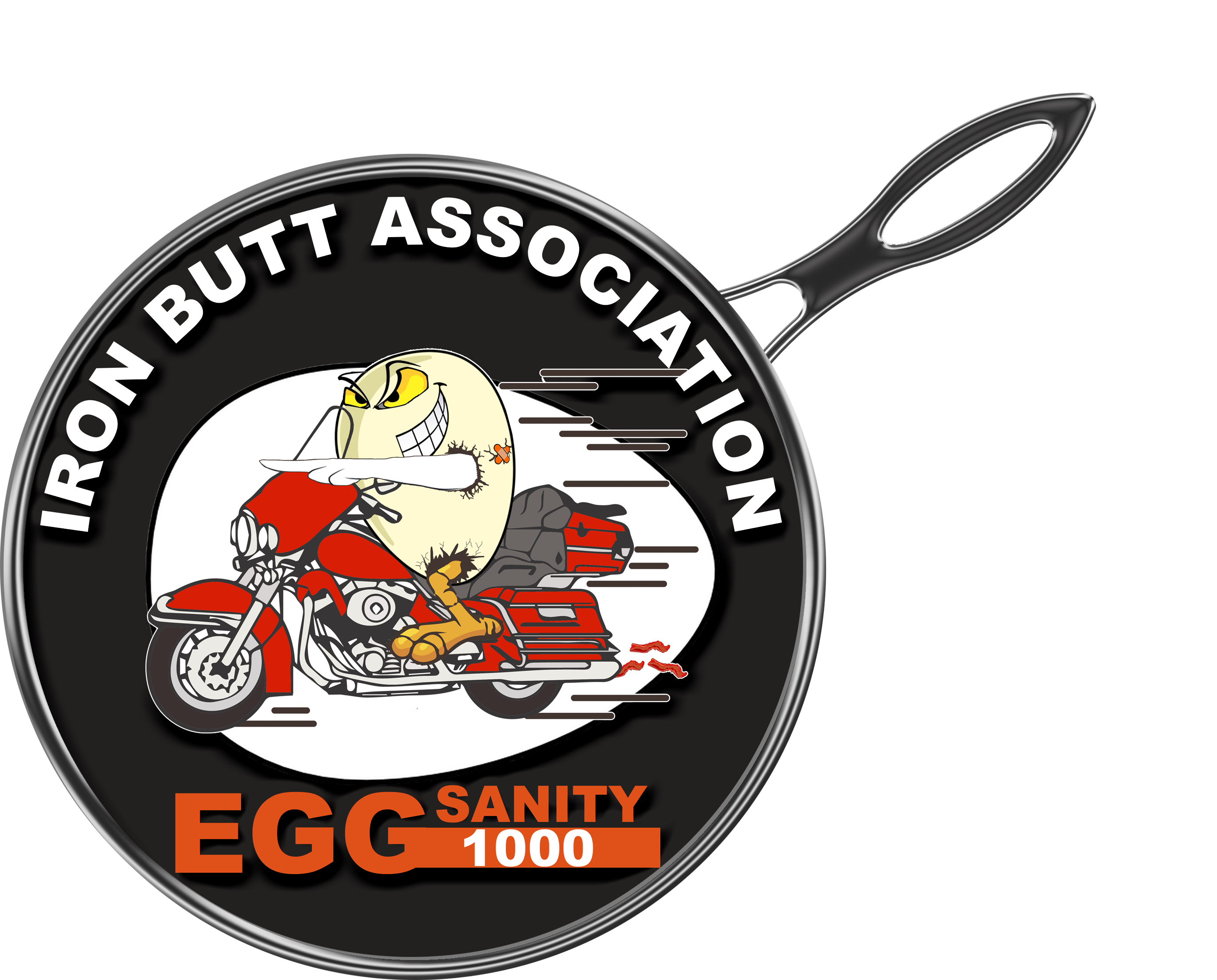 EGGSANITY 1000 – For Egg Lovers- Vegans need not apply

This ride celebrates the long-distance rider's favorite short order grills in classic Waffle House® style and requires you to enjoy an egg dish at each stop.

The EggSanity 1000 has many different levels of difficulty... your route must be pre-approved and must include the following:

At least one Waffle House AND one Huddle House® (rare exceptions may apply)

Other Waffle House style chains that are eligible: Royal Waffle King®, Omelet Shoppe® (only a few remain - maybe 3...)

Abbrevations: WH = Waffle House, HH = Huddle House, OS = Omelet Shoppe, RW = Royal Waffle King

ALL rides must start and end at an approved chain with a stop for lunch mid-way in the ride (we will give you wide latitude to make your route work).

EggSanity 1000 - Eat at 2 of the 4 chains, for example WH - HH - WH

EggSanity 1000 SILVER - Eat at 3 of the 4 chains, for example, WH, HH, OS

EggSanity 1000 GOLD - Eat at 4 of the 4 chains, for example, WH, HH, OS and RW

RESOURCES: wafflehouse.com - huddlehouse.com - royalwaffleking.com (coupons available on-line) - NO good resource for Omelet Shoppe - Omelet Shoppe 3712 E 7th St Parkersburg, WV 26104 (304) 485-3161, 2001 Harper Rd, Beckley, WV 25801 (304) 252-9903 and 349 Wildwood Rd, Salem, VA 24153 (540) 389-5820; 5150 State Park Rd, Dublin, Virginia (540) 674-8473

Some pre-approved routes to the 2015 IBA Dallas party routes are below

1) WH - Phoenix, AZ (area), HH - Kermit, TX to WH - Dallas/Ft Worth area)

2) HH - Fargo, ND, HH - Emporia, KS - WH - Dallas/Ft Worth area

3) WH - Indianpolis, IN (area), RW - Madison, AL, WH - Dallas/Ft Worth area

4) RW - Somerset, KY, HH - Rolla, MO - WH - Dallas/Ft Worth area

5) OS - Parkersburg, WV, HH - West Memphis, AR, WH - Dallas/Ft Worth area

6) WH - Wildwood, FL, RW - Phenix City, AL, WH - Dallas/Ft Worth area

You may suggest other routes, but they must be submitted via Google Maps link for approval before the ride (or other on-line map system that allows you to share a route and shows the route mileage, for example Bing maps or Mapquest) to [email protected]

For some tips on how to use Google Maps, visit Google Maps which unfortunately is going through some upgrades so instructions on link creation is changing as Google rolls out the new system.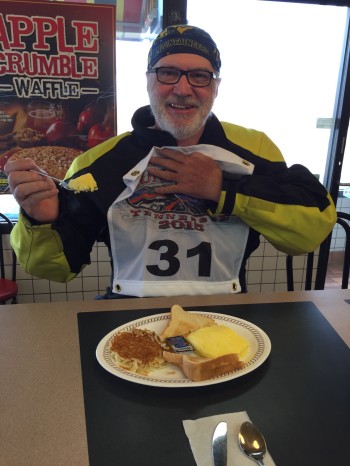 Patrick Hanlon - first EggSanity GOLD finisher
REGISTRATION
Since you must use a ride flag supplied by the IBA to document your ride, advance registration is required (at least 14 days). Finishers of the EggSanity 1000 will receive a distinctive EggSanity 1000 certification and EggSanity 1000 ride stickers. The fee is $60.15 and includes the price of the required EggSanity 1000 ride flag.
To register for the EggSanity 1000, send an email to [email protected] with the following information
Mailing address for your ride flag
The motorcycle you are riding
The start date of your ride
Your route (we prefer you use google maps or other on-line system) that shows your stops.
We will send you an on-line invoice for payment once the route it set and mail the flag shortly after that.
THE RIDE
You will be taking photos at each stop eating, what else, egg dishes with of course your EggSanity flag and collect receipts after each meal
Your ride starts after you eat (so you are on the clock when you get your receipt for breakfast).
Your ride ends at your last stop, AFTER you eat you final meal.
Some comments about the EggSanity ride series: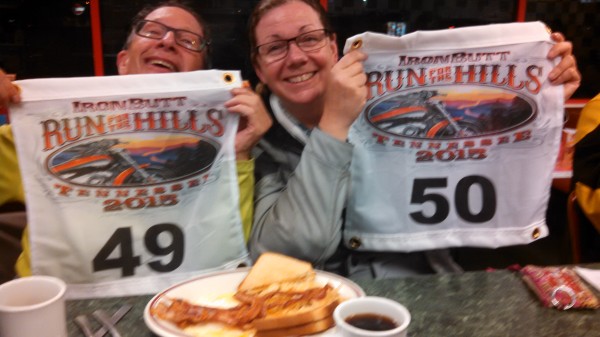 IBR finisher Jim Winterer and TeamStrange leader Lisa Erbes having fun at their fourth stop on the inaugural EggSanity 1000.
TeamStrange leader Lisa Erbes, who rode with IBR Finisher Jim Winterer, "Anyway - Jim & I were talking about how ironic it was that I should finally get my IBA number while doing a Saddlesore that was inspired by Waffle House. Eddie (James - founder of TeamStrange) would be so pleased with the whole thing."
When our first Gold Finisher, Patrick Hanlon was asked if he was egged-out yet (his route included meals at 5 stops), he replied, "Hell no, I LOVE eggs!"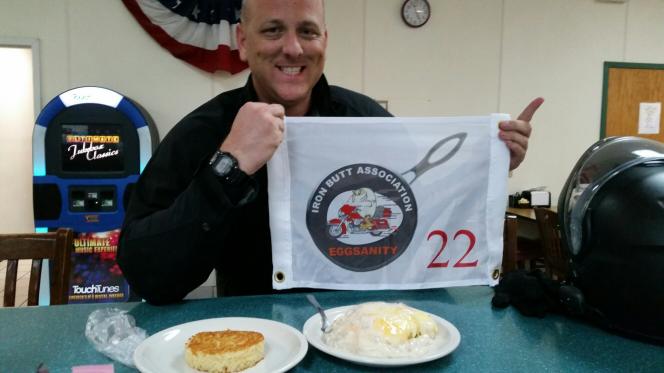 Paul Tong chows down on an insane, two day, back to back EggSanity gold ride! This is how he celebrated the end of day one, in Dublin, Virginia at Omelet Shoppe for the heart-stopping Country Boy Omelet (their specialty) – an omelet with sausage, hash browns, onions, and cheese topped with sausage gravy. And yes, he reports he loved eating the entire meal!
---
© 2015 Iron Butt Association, Lisle, Illinois

Please respect our intellectual property rights. Do not distribute any of these documents, or portions therein, without the written permission of the Iron Butt Association.

Waffle House is a registered trademark of Waffle House - they are not involved in this ride at all except for taking money in exchange for serving breakfast style meals. Other trademarks are Huddle House, Omelet Shoppe and Royal Waffle King - they are also not involved in this ride at all except for taking money in exchange for serving breakfast style meals.