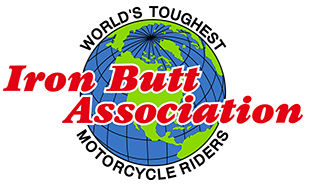 National Parks Tour-- Master Traveler Award

National Parks Tour-- Master Traveler Award Gold
National Parks Tour--Master Traveler Award Silver
National Parks Tour--Master Traveler Award Platinum
National Parks Tour--Master Traveler Award Insanity

Version No. 2.1
Date last revised: October 13, 2017


©2016, Iron Butt Association, Chicago, Illinois
Please respect our intellectual property rights. Do not distribute this document or portions therein, without the written permission of the Iron Butt Association.

Background

The National Parks Tour Master Traveler Award Series consists of motorcycle rides that include the basic level requirement to visit at least 50 sites in 25 states in less than 1 year. Several advanced versions are also available beyond the basic level, as described below. Additional requirements apply for awards beyond the basic level.

Rules





Fee*: See fee page
| | | |
| --- | --- | --- |
| Award Level | Requirement | |
| Master | Visit at least 50 sites in at lest 25 states | |
| Silver | Must include site in CA, FL, Northwest, and Northeast | |
| Gold | Must include site in CA, FL, AK, and Northeast | |
| Platinum | Must meet Gold level plus site in HI | |
| Insanity | Two Gold Level Awards in less than 1 year | |
*includes certification verification and pin

Northwest: Washington State or Canada northwest of the Washington border
Northeast: Maine or Canada northeast of the Maine border
Alaska: only sites north of the 60th parallel are eligible
Hawaii: must visit site by motorcycle. You must tell us how you obtained a motorcycle to ride to this site.

o Visit at least 50 National Parks, National Monuments, National Historic Sites, National Recreation Areas or any other site or park listed in the Passport book or other sources, such as those listed by the National Parks Travelers Club http://www.parkstamps.org in at least 25 states within 1 year. You may start any time you like and finish any time you want.

Notes: In theory, you can visit 21 parks in California, 6 parks in Arizona and then 23 parks in 23 different states; or 2 parks in each of the 25 states; or any other combination that you can dream up... Washington, D.C. is considered a state. There are some stamps that you can obtain without visiting a park, such as Rainbow Natural Bridge on Lake Powell in Utah, which can actually only be visited by boat. We ask that you do not submit those stamps if you have not actually visited the park. Canadian Provinces count as states.
o Purchase a "Passport to Your National Parks" book ($7.95) from either a National Park Visitor's Center or by mail from:
Eastern National Park and Monument Association
470 Maryland Drive, Suite 2
Fort Washington, PA 19034
or on-line from www.eParks.com or call (877) NAT-PARK (The proceeds from this book go to helping the park service provide services to visitors).
o When you stop by the National Park, Historic Site, you must stop by the Visitor's Center and have them stamp your passport (the stamp is free) with the round rubber-ink stamp that contains the Park's name and location. We realize there might be some times when you arrive late and the visitor center may be closed. In limited cases, we will accept a picture of your motorcycle in front of the visitors center NOT the entrance to the park. You will need to find a good sign with the name of the center and location, however, photos are only to be used as a backup option in a few limited parks. The stamps are the primary verification item we are asking for to complete this ride.
o Canada parks (National Parks, National Historic Sites) do not all have stamps available, we understand that you will have to be creative with your documentation. For a list of eligible sites visit:
Canadian National Parks
Canadian National Historic Sites
For your effort, you will receive a custom Iron Butt Association certificate of Accomplishment, a Master Traveler Pin, a license plate back and have managed to see a great deal of some of the prettiest parts of America and Canada.
o Please remember that most National Parks do charge an entry or "user" fee to enter the park. With admission to Yellowstone N.P. running $20, your best bet is to purchase a one-year America the Beautiful National Parks and Federal Recreational Lands Pass for $80 from any National Park. With the pass, you can visit any of the areas listed in the Passport book and not have to pay the user fee for the entire year.

Documentation: See here. ADDITIONALLY:
--once your Passport contains at least 50 stamps from 25 different states, photocopy the pages and submit the copies.
--Prepare a tabular listing of your accomplishments. Here is one example of a successful tabular
listing. If you are submitting your application electronically, attach your listing (in a workable format like *.xls to your email).

More information
o There is a National Parks Forum with endless tips run by W. Boyter located at http://forums.delphiforums.com/NPSTouring/start and www.parkstamps.org
o For an addict's view of stamp collecting, don't miss Robert Higdon's The Quest
You may also want to check out Daniel Cohen's site (Daniel holds several records in the stamp collecting game!) here
Merchandise:
Pins - $8.50 EACH
Not to size. Pins measure 1.75 inches tall.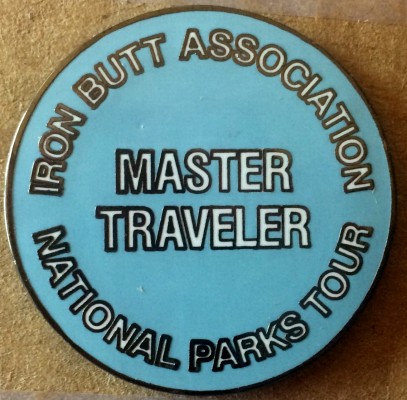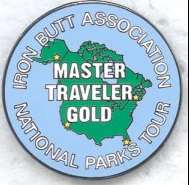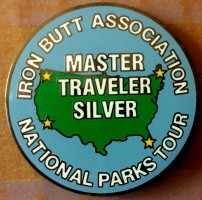 Patches: $8.75 each
Not to size. Patches measure 3.25 inches tall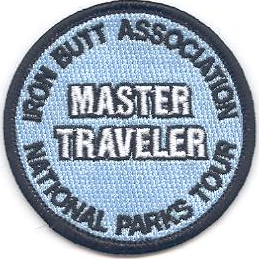 ---


---