George A. Wyman
Memorial Challenge
Wyman SaddleSore 1000
Wyman Bun Burner Gold
Wyman 50cc Gold
Version No. 2.0
Date last revised: January 25, 2023
� 2023, Iron Butt Association, Chicago, Illinois
Please respect our intellectual property rights. Do not distribute this document or portions therein, without the written permission of the Iron Butt Association.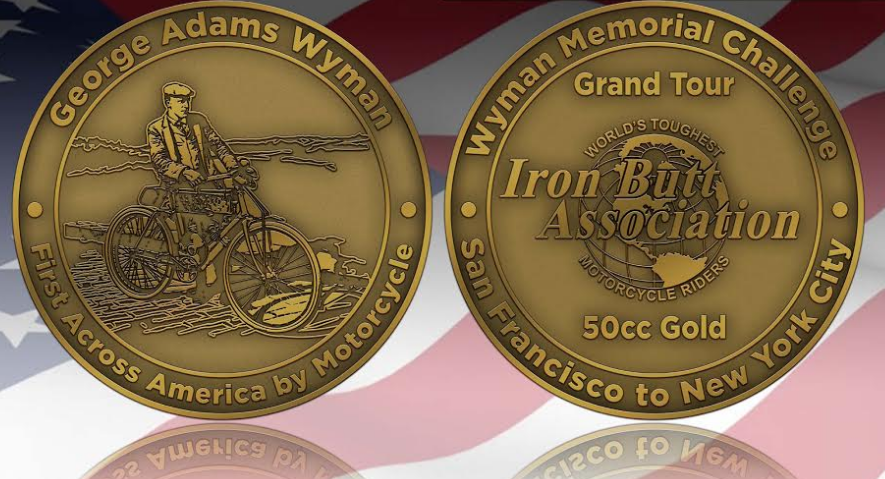 Background


George A. Wyman was the first to ride a motorcycle across America. He made his epic journey on a Roy C. Marks designed "California" motor bicycle starting in San Francisco, California on May 16th and ending 50 days later in New York City, New York on July 6th, 1903. Wyman rightly deserves recognition as America's first long distance motorcyclist and "The World's Toughest Motorcycle Rider", circa 1903.

The George A. Wyman Memorial Project in partnership with the Iron Butt Association have developed challenging long-distance rides to memorialize Wyman's historic journey. The Wyman Memorial Challenge (WMC.) consists of the; Wyman SaddleSore 1000, Wyman Bun Burner 1500 GOLD, Wyman 50cc GOLD "

The Hard Way

" rules are below.

Further information on the larger Grand Tour is availble on the WMC Grand Tour page.



Read the

rules for the iconic SaddleSore 1000

on the Iron Butt Association site. The rules for this ride are similar and you will get valuable background information.





Definitions





DBR - Dated Business Receipt



A DBR is a machine generated receipt with the date, time and LOCATION on it. Check it - do not assume it is correct. A receipt with an incorrect time/date/location is worthless. Check and re-check. A picture of your motorcycle total odometer miles and a DBR Date/Time/City/State (Odo/DBR) is strong evidence you rode your motorcycle to that point. Write the motorcycle odometer mileage on the DBR before taking the picture is a best-practice.



Documentation:

See

here.



Rules It took George Wyman 50 days to reach New York City. Each day Wyman would start, ride all day, sometimes late into the evening before stopping to Remain OverNight - (RON).
Your challenge as a modern long-distance rider is to follow Wyman's day ride example. Select either the SS1000 or BBG 1500 miles in under 24 hours.

All Wyman Memorial Challenge rides share the same two certification requirements:

When - Start on or after May 16th and finish on or before July 6th
Direction - West to East only



WMC SaddleSore 1000

& Bun Burner 1500 GOLD

"Day Rides"


- Ride must start from and end at locations where George Remained OverNight (RON) (list of locations within PDF document) or (GPX file content - within a ZIP archive).
(NOTE:) Lotta's Fountain at Market and Kearney Streets in San Francisco, CA and any of the five boroughs of New York City are considered RON locations.
- When in Utah, take the route north of The Great Salt Lake to Ogden, like George did.
- When in Wyoming, take the route along US 287 through Medicine Bow, like George did.
- You may visit as many GAW waypoints as you like along your route however, at a minimum, you must visit a RON location every 200-350 miles.



Wyman 50cc GOLD

"

The Hard Way

"
- Ride from San Francisco to New York City in under 50 Hours.
- Same rules and documentation for the 50cc Quest GOLD apply however, this ride must start in San Francisco, CA and end in any of the five boroughs of New York City: Manhattan, Queens, Brooklyn, the Bronx, or Staten Island (Richmond).
- You are not required to visit Wyman Waypoints to complete this ride, though it is encouraged time permitting; simply ride from San Francisco to New York in under 50 hours.

NOTE: Riders are encouraged to obtain before and after the ride photos of rider & motorcycle at Lotta's Fountain at Market and Kearney Streets in San Francisco, CA and at 1904 Broadway, NYC. (In the spirit of the 50cc tradition of riding to as close to the oceans as possible.)



Fees:

See IBA fee page.

Spotwalla.com is

strongly recommended,

but

is not required

.



Any certified Wyman Memorial Challenge ride that starts at Lotta's Fountain or ends at 1904 Broadway, the rider receives additional Wyman SWAG at no additional charge.


WMC Swag Merchandise:
Journey Poster

Waypoint Poster
Waypoint Sticker
Waypoint Patch
IBA/WMC Coin
IBA/WMC T-Shirt
See
Wyman Project
on the
IBA eStore
for listing.